AWARDS
Hey guys, sorry for the the long pause in between posts...as i mentioned in my last post tho, i have been trying to bang out any and every last detail involved in my wedding, lol. I want it to be done with!
Before i get to the wedding stuff, just wanted to show you guys i won my very first award! i didnt do anything...nor am i a mommy or anything, but hey!! Its an award damnit!! im proud!
Thank you
Jennifer
@
http://jenniferkloos-ruiz.blogspot.com/
(check her out!)
--------------------------------------------------------------------------------------
THE SHOWER
So now on to wedding business....
I spend the whole day in the states yesterday. and i finally booked my shower! Its going to be here:
The
infinity and ovation yacht charter
was a place i considered long ago for my wedding venue when i found out i was going to be marrying a Canadian white guy, lol. My whole family lives in the United States, his whole family lives in London, Ontario....which is a bit of a problem. because we live in Windsor. London to Windsor = 2 hours. Certain parts of the US to Windsor= 1.5 hours, but our border is ALWAYS backed up! so possibly 2 hours anyways....
Someone elses wedding, lol
but its a picture of the inside..not really a good one..
SOOOOO, I am having 2 showers...which i always ragged on people for doing..and i called them greedy (i know a girl who had 3!!) I guess my situation is different and completely karma infused, but its not possible to have just one shower. His mom is holding her side of the familys shower in London at her sisters house with around 15-20 people.
Our shower, and we shaved the list like you wouldnt believe...is going to be in Michigan, with 150 people.
Typical Chaldean weddings are usually about 700-900 people....we have huge families...for my wedding i am only inviting first cousins and direct family, and i've got my list down to like 350...its going to be a small-er wedding for us, haha. But HUGE for Kyle and his 80 COMBINED family and friends...lol
front of of the boat thing, i want my seat right here!!! hahaha
The party will go on here for the women. 2nd level for the men, and the third level is the dance floor!! its incredible.....
PLEASE stay tuned for pictures of this boat and
our fabulous shower which will be taking place on JULY 18th!!!
--------------------------------------------------------------------------------------
WEDDING FAVORS
So to stay away from anything normal or expected, we have decided to give another "different" and expensive favor to our guests... We contemplated so many things personalized with our names, but in the end my mom came up with the BEST idea of them all... We are placing on every womans chair a box which will contain a kefiyah. Its a scarf much like the belly dancing scarves, which we use in our culture to dance and celebrate with. The bells add a beautiful sound when you shake them and of course it always sounds great when everyone does it, while blaring music, singing, and dancing.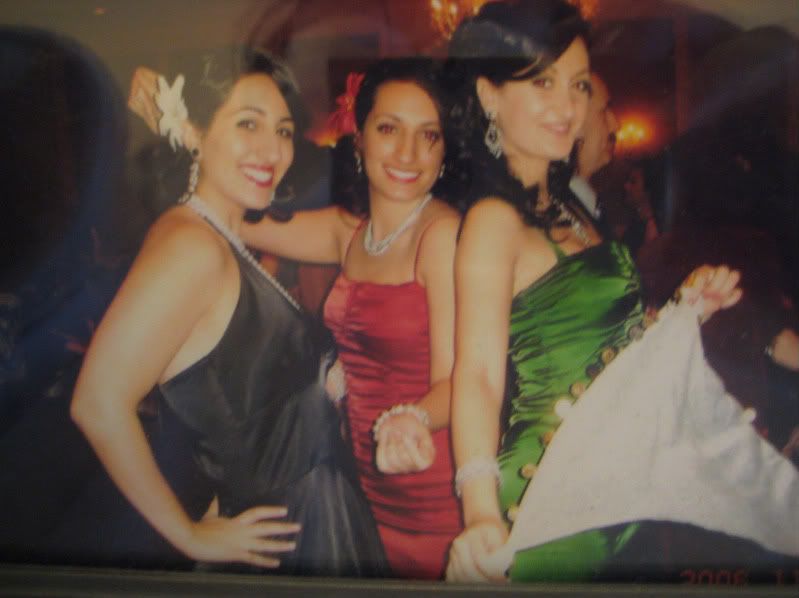 This is a picture of my sisters and i at my cousins wedding.
Note the kefiyah in my hand (im in green with the half smile, lol)
and yes, it is a picture of a picture...i dont have time to scan it!!
These scarves are very pricey usually starting at $20 a piece, and goes up depending on how many embellishments are on it! So needless to say, we are attempting to make 200 of these on our own to cut costs..lol The only thing we appear to be cutting is the time left to plan everything else!! It takes us a whole day just to make 10!! and we havent even sewn them on yet! we are just grouping and beading all the embellishments together to make it easy when we have to sew them on the scarf later!
As for the men, they will each receive a box containing worry beads. Which in our culture is a "necklace" used by the men for relaxtion, they just play with it in one hand while in conversation...i dont know how to describe it..but my dad has a very nice collection, and again, these are VERY expensive depending on the stones you have on it. For exaple, some are made from pure Jade or Amber stones, some from real pearls and crystals!! And of course you have the people in rich middle eastern countries who have them made of real diamonds... again, very pricey. So what we are doing is combining the worry beads with the evil eye beads! The evil eye is a symbol of good fortune and is used to keep away another persons actual "evil eyes" away from our happiness. Regardless of what certain dictionaries say, we do not use them to "inflict injury onto others" thats which craft people...not beads..
Anywho, the end result will look something like this:
But ours will be way better, i dont like these ones at all...but i couldnt really find a good picture of them...
Anyways, im off to renew my drivers license since i let it expire...then im off to try on my wedding dress..i think i found THE one!!!! more pics and stuff later...